Alberto Calero
The best city beaches in Spain
The best city beaches in Spain
Summer is almost here and we at Nomads Spain want to review the best Spanish city beaches. Sometimes you don't need to look for hidden beaches in remote places to enjoy a good chunk of sand and beach to get some sun and good weather. After all, in Spain we have plenty of good beaches, many of which can be found in the middle of an exciting city.
1. Playa de la Concha, San Sebastián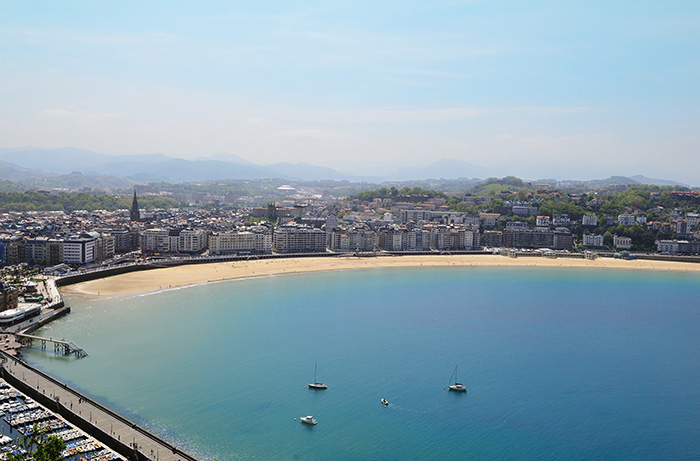 It's said to be one of the most beautiful city beaches in the world. La Concha beach, San Sebastián, is also one of the most acclaimed in our country. In the shape of a half-moon, between mount Igueldo and mount Urgull, the bay offers an excellent panoramic view. It is also considered the essence of the most elegant city in Spain: San Sebastián. At 1350 metres long with its beautiful promenade full of stately mansions, this beach is the pride of the donostiarras (San Sebastián locals).
There is nothing like combining a relaxing day on the wonderful Concha beach, with a taste of the most elaborate pintxos in the country in the nearby Casco Viejo of San Sebastián. If you are in a more active mood, the neighbouring and less crowded Zurriola beach will bring out the surfer in you.
Here you can find more info about San Sebastián
Discover San Sebastián in some of Nomads Spains's trips, like From the Centre to the Basque Country
2. San Juan Beach, Alicante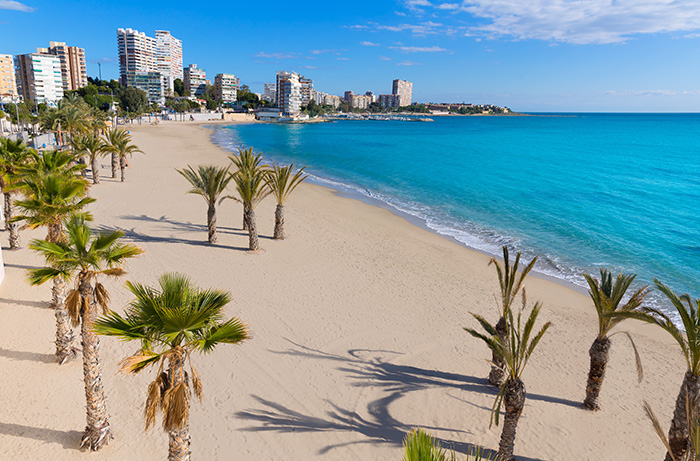 20 minutes by tram from Alicante's city centre, you can find the outstanding San Juan beach. Almost 3 km of broad beach covered in golden sand and crystal clear water, making San Juan beach the best in Alicante. There's plenty of space to relax or there are beach volleyball courts and football goals if you feel active, in addition to the plenty of sunny days this city has every year.
Spending the day at San Juan beach relaxing by the Mediterranean Sea is the perfect starter to what comes next: the famous tardeo and Alicante's bustling nightlife.
Find more info about Alicante Here.
Discover Alicante in some of Nomads Spains's trips, like Discovering the East of Spain.
3. La Victoria Beach, Cádiz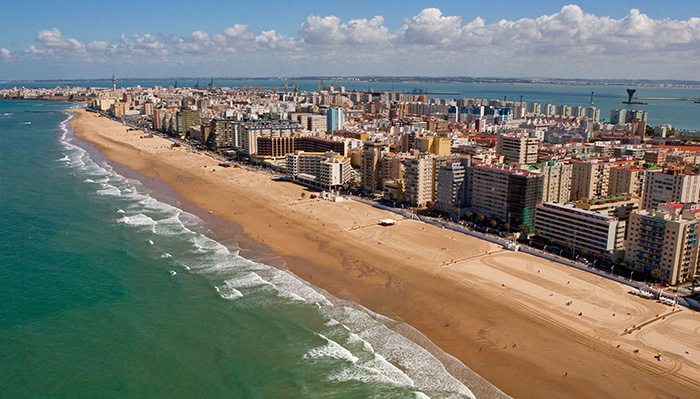 With 24 consecutive Blue Flag awards for cleanliness, 2.5 kilometres of fine sand and crystal clear water, La Victoria beach is considered the best city beach in Europe. This impressive beach is the pride of the gaditanos (Cadiz locals), it is easy to get to and has everything you need nearby.
It is located outside the old Cadiz walls, but is next to the city centre. It has an environmental management system certified by AENOR and the Q mark for tourist quality in Spain. If that's not enough, the sunsets here are breath-taking and throughout the night the promenade also has a great atmosphere.
We are working on it; shortly Nomads Spain will offer trips to Cadiz. If you want to add it to your trip contact us with this form and we will include it.
4. La Malvarrosa Beach, Valencia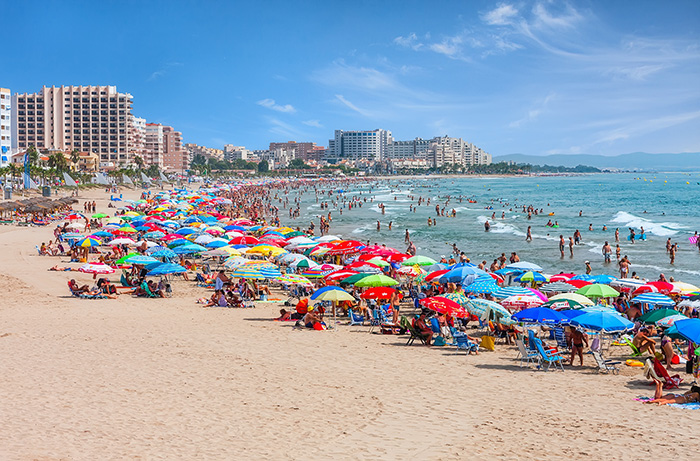 La Malvarrosa beach is the main city beach in Valencia and one of its highlights. It is 1000 metres long and on average 135 metres wide, in addition to be very well equipped with services and a nice promenade with plenty of bars and restaurants.
The promenade and the beach make La Malvarrosa one of the liveliest places in Valencia and one of the most popular leisure spots for travellers and locals. It's easy accessible by subway and bus.
Click here to find out more about Valencia.
Discover Valencia in some of Nomads Spain's trips, like The Three Big Ones.
5. El Sardinero Beach, Santander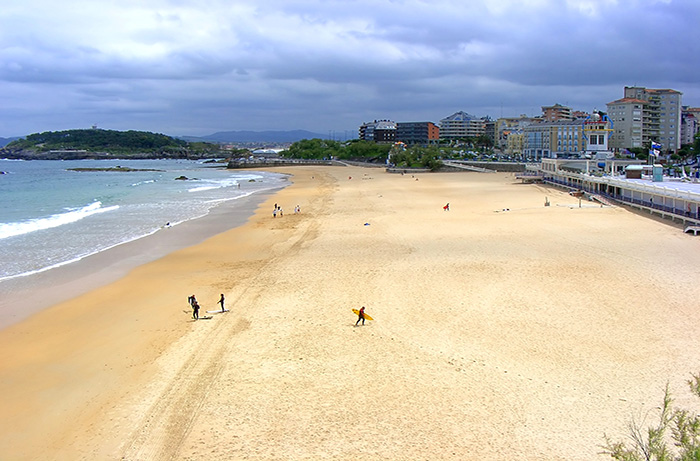 This beautiful sandy beach is famous for its aristocratic past as an important seaside resort during the 19th century. El Sardinero, the city beach of Santander, is a large, wide and open beach with very clear water. At low tide the beach splits into two separate beaches.
It is 350 metres long, on average 80 metres wide and has many services, in addition to a pleasant promenade. Cooler water from the Cantabrian Sea will be refreshing to those who can't bear the warmer water of the Mediterranean Sea, especiallyduring the hottest parts of the summer.
If you want to know more about Santander, click here.
Discover Santander in some of Nomads Spain's trips, like Land and Sea.
6. La Malagueta Beach, Malaga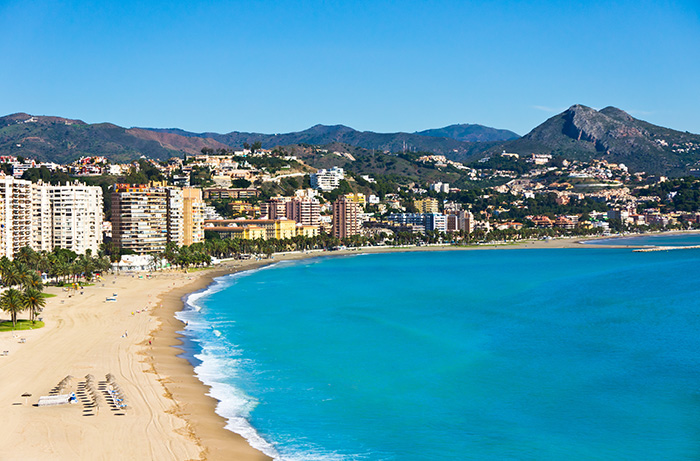 La Malagueta, the hugely popular beach in Malaga, is a short 10 minute walk from the city centre. At 1200 metres long and on average 45 metres wide, this is one of the most popular city beaches in the country and a very bustling place, which is helped by the number of beach bars here.
There are plenty of palm trees to enjoy some welcome shade when the sun is at its hottest. The water here is not as hot as you would expect in the Mediterranean and the sand is not as fine as many people hope, but La Malagueta is a perfect place to spend a few hours relaxing and resting before going out to enjoy the lively atmosphere of Malaga.
Here you can find more info about Malaga.
Discover Malaga in some of Nomads Spain's trips, like The Big Al-Andalus Trip.
7. La Barceloneta Beach, Barcelona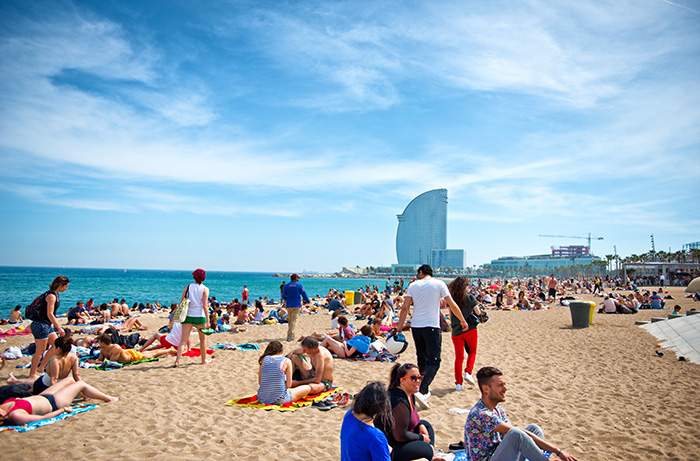 La Barceloneta in Barcelona, the best example of a city beach, couldn't be missing from this ranking. It's not the quietest or the cleanest, and you need to keep an eye on your belongings, but this beach is still the most popular for visitors and tourists, as it's the liveliest beach in the city and it's so easy to get to. The beach has lots of history and is a welcome escape during the hottest months of summer.
If you prefer something quieter, you can walk north and visit any of the succession of beaches that continue on from La Barceloneta. The beaches of Nova Icaria, Bogatell and Mar Bella all have very different atmospheres.
You can find more info about Barcelona clicking here.
Discover Barcelona in some of Nomads Spain's trips, like Charming Destinations.
Photo credit: Playas con Encanto / CC BY