Alberto Calero
Where to go in Spain in winter?
The best plans to travel in Spain in winter
If you're planning a trip to Spain in winter, here at Nomads Spain we suggest six irresistible plans to inspire you. Get to know the most famous traditions and celebrations of Spain in winter:
1. See out the old year in New Year's Eve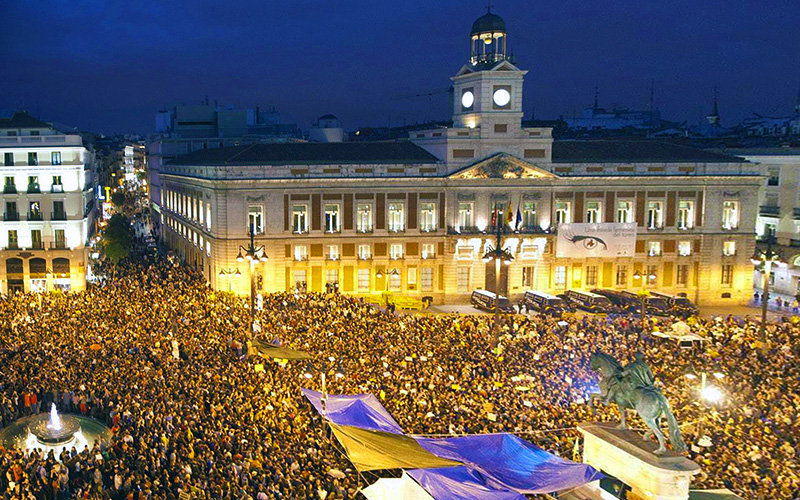 If partying in Spain is already a must do, can you imagine being here during the last night of the year? New Year's Eve celebrations throughout Spain are massive, full of joy and excitement. Party, food, drinks and the traditional lucky 12 grapes will make your night unforgettable!
This tradition consists of eating a grape with each bell strike at midnight of New Year's Eve, and is celebrated far and wide in Spain. However, the most emblematic place to do it is at La Puerta del Sol, in downtown Madrid. The clock in La Puerta Del Sol is the most important with its bells and its national broadcast. Thousands of people gather in this famous square to eat the 12 grapes and toast to the coming year.
So dress up, get there early, bring your grapes and your cava, and get ready for an extraordinary night! Don't forget to have the typical breakfast, chocolate con churros.
2. Dream like a kid in the Three Kings Parade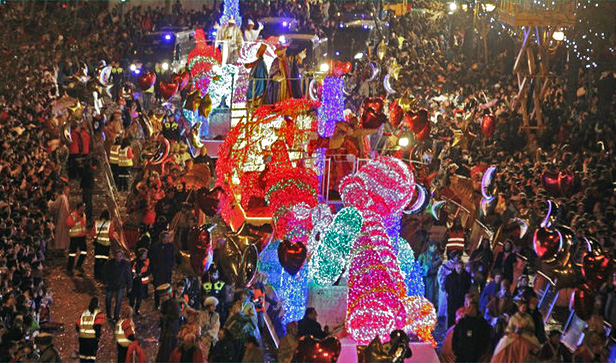 The night of January the 5th is famous in Spain because of the traditional Cabalgata de Reyes. Since Santa Claus doesn't come to Spain, the Three Kings or Three Wise Men are the ones in charge of bringing presents to the Spanish children. This tradition commemorates the Day of the Epiphany: according to the Christian Tradition, this was the day that the Three Kings (Melchior, Caspar and Balthazar) visited the newborn Jesus and gifted him with gold, frankincense and myrrh.
To celebrate it, the Kings arrive in Spain on wonderfully decorated floats part of a magical parade among musicians, dancers, acrobats, while throwing sweets to the children lined up on the streets. From the biggest parade in Madrid, to Barcelona where the Kings arrive by boat, through the oldest one in Alcoy, this celebration will delight both kids and adults and will fill your holidays with magic and hope anywhere in Spain.
3. Enjoy colors and happiness in Carnival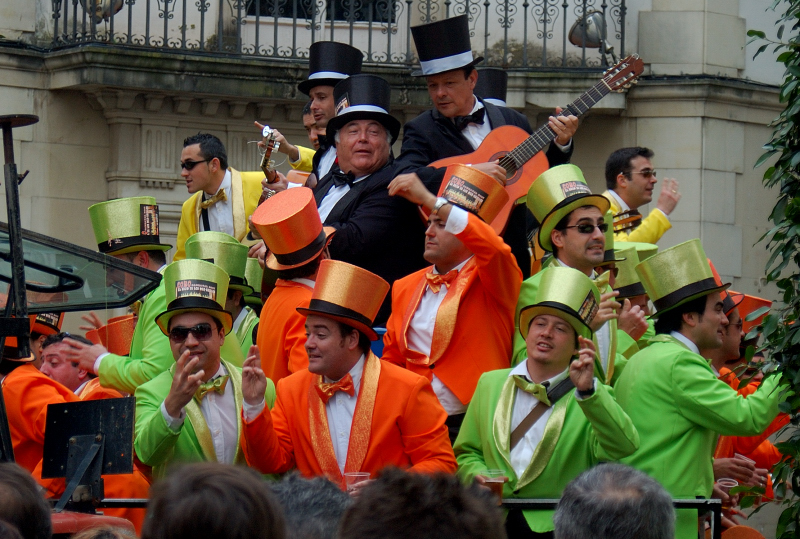 Carnival is also a tradition in Spain and we love to celebrate it! It is celebrated nationwide and you will find partying and funny costumes everywhere you'd go. The country is full of joy and and colour, but especially Santa Cruz de Tenerife, with a beautiful Brazilian touch, and Cádiz, with its comparsas and chirigotas singing witty and satirical songs about politics and current national issues.
If you visit Spain in February you cannot miss the opportunity of joining one of the craziest street parties in the country. Don't just be a witness, be a part of it!
4. Explore the Christmas markets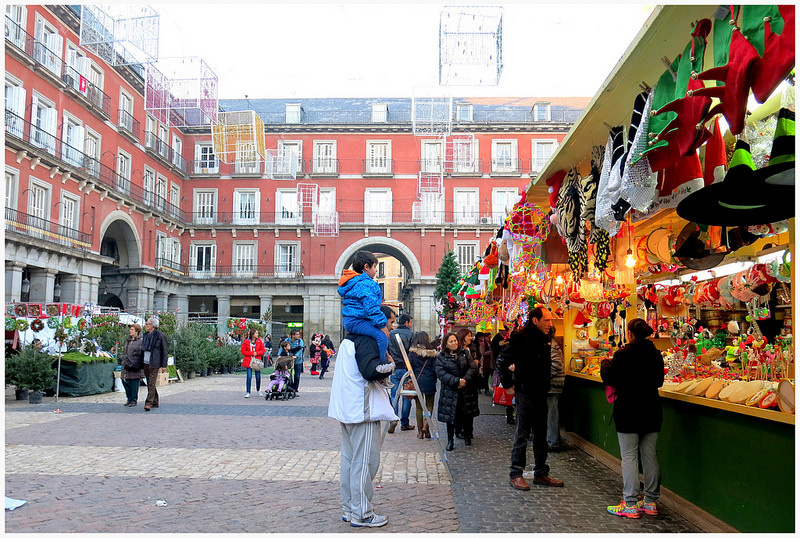 Like in many other places in Europe, Spanish cities are full of street markets and fairs during Christmas. The streets are bustling, brimming with Christmas ornaments, lights and color that will bring out your holiday spirit. If you are travelling to Spain in winter and you enjoy visiting local markets, it will not be difficult for you to find one.
In Madrid, you can enjoy the market in La Plaza Mayor, the oldest and most traditional plaza in the city. La Fira de Santa Llúcia stands out in Barcelona, beside the cathedral. However, you can also find outstanding markets in other cities, such as Seville or Valencia, where you can buy Christmas figurines, ornaments and typical winter products. And of course you can find food in these markets so don't miss the roasted chestnuts!
5. For mountain lovers
Spain is inevitably associated with sun and beaches, but if you are a snow lover keep in mind that you can enjoy some nice snowy mountains in Spain in winter. From the north to the south, Spain has over 30 ski resorts to have a good time practicing winter sports.
The area with the most ski resorts is northern Spain, in the Pyrinees, with famous resorts such as Baqueira Beret, Formigal o Cerler. Madrid boasts about its three ski resorts too, that are pretty close to the city and accessible by public transport. But you will also find quality skiing in the south! In Sierra Nevada, Granada, you will find the southernmost ski resort in Europe and the second largest in the country. If you come here, don't forget to visit the charming city of Granada, it's a stone's throw from the mountains and it's especially beautiful during the winter!
6. Run away from the cold in the Canary Islands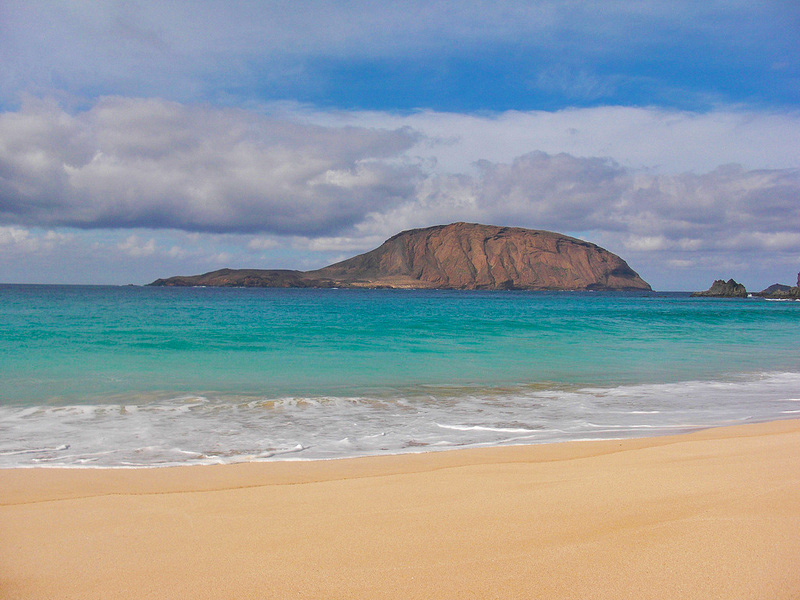 Are you tired of winter? Do you need a break from the cold, rain, snow and gloomy days? Your best option is the Canary Islands! Good weather, sun, beaches… what else could you ask for? Its southern latitude close to Africa brings this place great weather throughout the year. If avoiding winter is what you are looking for, the Canary Islands are the closest destinations in Europe to take a swim in the ocean. In fact, winter is the islands' high season, although there are tourists throughout the year. Come and revel in the Canary Islands' eternal spring.
Photo credit: The Ridge Resorts / Visual Hunt / CC BY
Photo credit: Kalysee / VisualHunt / CC BY-ND
Photo credit: M. Martin Vicente / VisualHunt / CC BY